Free 1:1 Device Repair Trial
Helping School Districts with 1:1 Programs since 2010.
Free 1:1 Education Trial Repair
Thank You For Your Interest in our 1:1 Repairs
Gophermods has been servicing schools districts since 2010. Since 2010, we have specialized in the repair of iPad, MacBook, and Chromebooks. We currently service 150 school districts in the Midwest, and are a locally owned and operated tech company based in Minneapolis. All of our repairs have a lifetime  warranty, fast turnaround times, easy net terms billing, free shipping and the experienced back by a company that does 20,000 plus iPad, MacBook and Chromebook repairs per year.
Local Minnesota Company in business since 2010

Lifetime warranties standard on all education repairs.

All of our technicians have years of experience and go through a thorough ten week training process, ensuring your devices are in capable hands.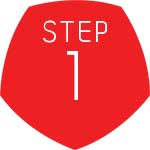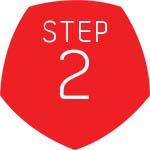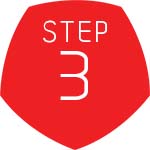 Print Shipping Label Below!
Ship in your free trial repair by clicking on UPS Portal Link below!
Fast Turnaround Time
We will e-mail you the day we receive your device, finish up the repair and send it back in 24-48 hours.
No Strings Attached!
No obligation, no commitment. If you like our services, great, we'd love to talk!
Repair Pricing & Price List
1:1 iPad Screen Repairs
For additional pricing on MacBook, ChromeBook, Surface and other iPad repairs not listed to the right. These fees are waived for your free trial repair. Please contact-us below!
Free Shipping

Free Diagnostics: No Fix No Fee

Lifetime Warranties

24/7 Online Ship Portal

Flat Rate Repair Pricing
Screen Repairs
iPad 6
iPad 5
iPad Air 2
iPad Air
iPad Mini 4
iPad Mini 3
iPad Mini 1 / 2
Print Your Free Trial Repair Shipping Label
Print Your UPS Shipping Label
24/7 Access to UPS Shipping Portal
No more waiting for confirmation or shipping labels. When you're ready to ship your repairs out, print, ship and you're done. Simple as that, you have 24/7 access! Simply click the link below to access now to retrieve your UPS shipping label.
company: gophermodsed user: returns password: returns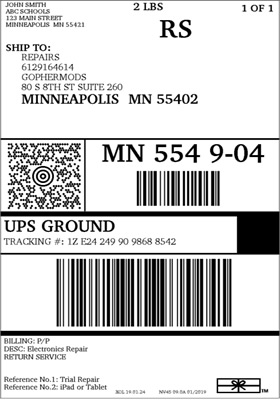 Have Questions?
We assume you have questions. While you don't have to call us before shipping anything for a free trial repair, we prefer you do!
E-mail us through the form on the left, message us directly at

[email protected]

or call at 612-200-0840.
One Free Trial Repair per School

No Contract / Obligation Required

Schools Only / Not for Private Use*
Need a Referral?
Send us an e-mail, and we'll put you in touch with a few well known districts that will give you an unbiased, honest opinion about their current and past experiences repairing with Gophermods.
*Offer is valid only for school institutions. You will billed $19 for shipping if you send in a personal devices and charged full retail repair prices prior to the device being returned.