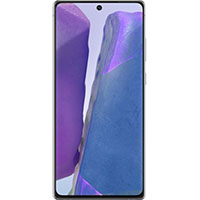 Galaxy Note 20 Repairs
Galaxy Note 20 Series Repair Services
The Samsung Galaxy Note 20 and Galaxy Note 20 Ultra (stylized and marketed as Samsung Galaxy Note20 and Galaxy Note20 Ultra) are Android-based phablets designed, developed, produced, and marketed by Samsung Electronics for their Samsung Galaxy Note series, succeeding the Samsung Galaxy Note 10 series. The phablets were announced on 5 August 2020.
The Galaxy Note 20 series maintains a similar design with the Galaxy Note 10 and Galaxy S20, with an Infinity-O display (first introduced on the Galaxy S10) containing a circular punch hole in the top center for the frontal selfie camera. The rear camera array is located in the corner with a rectangular protrusion like the Galaxy S20, housing three cameras.
Global color options are, Mystic Bronze, Mystic Grey, Mystic Green, Mystic Black and Mystic White. Moreover, the Mystic Green, Mystic Bronze and Mystic Grey color options on the Note 20, have a matte finish, whereas, only the Mystic Bronze on the Note 20 Ultra, has a matte finish. Mystic Bronze is available on both models, whereas Mystic Grey and Mystic Green, are limited to the Note 20; Mystic Black and Mystic Crush White are limited to the Note 20 Ultra.
| Repairs | Note 20 Ultra | Note20 |
| --- | --- | --- |
| Screen / Display | Call / Email | Call / Email |
| Battery | $79 | $79 |
| Charge Port | $79 | $79 |
| Camera Glass | $29 | $29 |
| Rear Camera | Call / Email | Call / Email |
| Back Glass | $59 | $59 |
| Speakers / Microphone | $59 | $59 |
| Diagnostic | $19 | $19 |
No Appointment Necessary
On average, most Samsung repairs are finished within one to two hours of drop-off at any one of our stores. No appointment is required for service but we do recommend you call ahead to check for turnaround times and parts availability.
Most Galaxy Note 20 screens, batteries and docking ports are not always routinely stocked. So please call ahead to check stock.
You Said How Much!?!
Trust us, we know it's high. Most smartphones besides a Galaxy are around $100 to repair for a broken screen.
Unfortunately, the OLED displays manufactured by Samsung are very exclusive, expensive and not as available as most other smartphones.
Our labor is only $59 on the repair, the rest is all parts costs.
Warranty Coverage:
The one year warranty covers any defects with the part replaced. This warranty is exclusive to only the parts serviced and replaced.
In the event your part serviced is damaged again, the standard one year warranty coverage is void.
Physical Damages:
Incidental damages are not covered under our warranty policy. In the event your device is broken again, the standard one-year warranty coverage is void.
Our service is "reasonable", "fast", and "friendly". …That's Minnesota Nice for saying, we're pretty good.