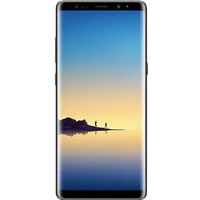 Galaxy Note 8 Repair
Galaxy Note 8 Repair Services
The Samsung Galaxy Note 8 is an Android-based smartphone phablet designed, developed, produced and marketed by Samsung Electronics. The successor to the discontinued Samsung Galaxy Note 7, and predecessor to the Galaxy Note 9.  It was unveiled on 23 August 2017 and became available on 15 September 2017.
Both the Note 8 and its S Pen are certified with IP68 rating for water and dust resistance, and is available in five color variants: "Midnight Black," "Orchid Gray," "Maple Gold," "Deepsea Blue," and "Blossom Pink." Similar to the Galaxy S8, the Note 8 has a dedicated physical key for launching the Bixby virtual assistant.
| Repairs | Note8 | Note9 |
| --- | --- | --- |
| Screen / Display | Call / Email | Call / Email |
| Battery | $79 | $79 |
| Charge Port | $79 | $79 |
| Camera Glass | $29 | $29 |
| Rear Camera | Call / Email | Call / Email |
| Back Glass | $59 | $59 |
| Speakers / Microphone | $59 | $59 |
| Diagnostic | $19 | $19 |
*Prices for Galaxy Note 9 and Note 8 shown because it's hard to tell the difference between the models.
No Appointment Necessary
On average, most Samsung repairs are finished within one to two hours of drop-off at any one of our stores. No appointment is required for service but we do recommend you call ahead to check for turnaround times and parts availability.
Most Galaxy Note 8 screens, batteries and docking ports are not always routinely stocked. So please call ahead to check stock.
You Said How Much!?!
Trust us, we know it's high. Most smartphones besides a Galaxy are around $100 to repair for a broken screen.
Unfortunately, the OLED displays manufactured by Samsung are very exclusive, expensive and not as available as most other smartphones.
Our labor is only $59 on the repair, the rest is all parts costs.
Warranty Coverage:
The one year warranty covers any defects with the part replaced. This warranty is exclusive to only the parts serviced and replaced.
In the event your part serviced is damaged again, the standard one year warranty coverage is void.
Physical Damages:
Incidental damages are not covered under our warranty policy. In the event your device is broken again, the standard one-year warranty coverage is void.
Our service is "reasonable", "fast", and "friendly". …That's Minnesota Nice for saying, we're pretty good.