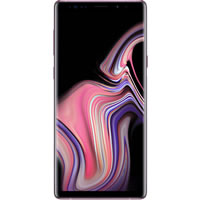 Galaxy Note 9 Repair
Galaxy Note 9 Repair Services
The Samsung Galaxy Note 9 (stylized as Samsung Galaxy Note9) is an Android-based phablet designed, developed, produced and marketed by Samsung Electronics as part of the Samsung Galaxy Note series. It was awarded the "Best Phone of the Year" award by Consumer Reports. It was unveiled on 9 August 2018, as the successor to the Samsung Galaxy Note 8. and the predecessor to the Galaxy Note 10 series released in 2019.
It is available in six colors (Ocean Blue, Midnight Black, Lavender Purple, Metallic Copper, Cloud Silver, and Alpine White).
| Repairs | Note9 | Note8 |
| --- | --- | --- |
| Screen / Display | $229 | $239 |
| Battery | $79 | $79 |
| Charge Port | $79 | $79 |
| Camera Glass | $29 | $29 |
| Rear Camera | Call / Email | Call / Email |
| Back Glass | $59 | $59 |
| Speakers / Microphone | $59 | $59 |
| Diagnostic | $19 | $19 |
*Prices for Galaxy Note 9 and Note 8 shown because it's hard to tell the difference between the models.
No Appointment Necessary
On average, most Samsung repairs are finished within one to two hours of drop-off at any one of our stores. No appointment is required for service but we do recommend you call ahead to check for turnaround times and parts availability.
Most Galaxy Note 9 screens, batteries and docking ports are not always routinely stocked. So please call ahead to check stock.
Sell Your Device for Cash
Samsung's are one of the most expensive devices to repair. If you'd rather upgrade, we offer cash for phones, tablets, laptops and other electronic devices. Get an instant quote to sell your Galaxy Note 9 today.
Receive an honest market-value offer and cash in your pocket today!
Warranty Coverage:
The one year warranty covers any defects with the part replaced. This warranty is exclusive to only the parts serviced and replaced. In the event your part serviced is damaged again, the standard one year warranty coverage is void.
Physical Damages:
Incidental damages are not covered under our warranty policy. In the event your device is broken again, the standard one-year warranty coverage is void.
www.gophermods.com/warranty
Our service is "reasonable", "fast", and "friendly". …That's Minnesota Nice for saying, we're pretty good.