Learn Which Size SIM Card Your iPhone or iPad Uses
You don't want to end up with a SIM card that doesn't fit in your phone, right? Let's see if you can find out which SIM sized you need!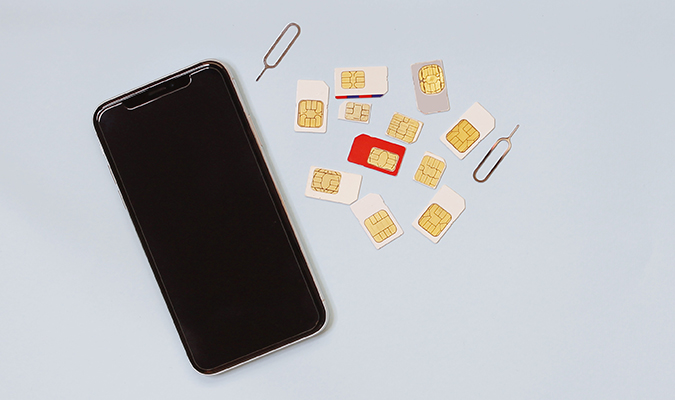 Introduction
SIM cards are tiny and releasable smart cards that are used in mobile phones. All cell phones, including smartphones, need SIM cards to connect to a cellular network. SIM cards also store information such as your mobile number, carrier company, and billing data.
But not every phone uses the same SIM card. There are different sizes and types of SIM cards available, which are suited for different phones.
To learn which SIM card your iPhone uses, find your model in the list. Not sure which iPad or iPhone you have, read: How to Identify Your iPhone and iPad Model.
If you purchased an iPhone 14 model in the United States, your iPhone doesn't have a physical SIM card; it has an eSIM.
Why do sim cards come in different sizes?
Smaller-sized SIM cards are becoming highly desirable nowadays because they provide more room in a cellphone (or other devices) for placing additional features like a larger battery without increasing the size of the phone.
Some older cell phone models and some devices that do not need to optimize their space still use the standard larger SIM card. But all models of cell phones released nowadays use smaller-sized sim cards like nano or micro-SIM cards. The most recent innovation is the e-SIM.
Nano-SIM card
The Nano-SIM was first released in 2012 and it is the smallest detachable SIM card when compared to other SIM card sizes, except for the eSIM. The dimensions of nano-SIM are 8.8 x 12.3mm.
The Nano-SIM is essentially a tiny IC (integrated circuit) with nearly nothing surrounding it and almost no border. The great majority of present-day electronic devices use this type of SIM card.
The iPhone and iPad models that use nano-SIM cards include:
5th generation and higher iPads
all models of iPad Pro
all models of iPad Air
all models of iPad mini
iPhone 5s, iPhone 5c, iPhone 5
1st generation, 2nd generation, and 3rd generation iPhone SE
iPhone 6, iPhone 6 Plus, iPhone 6s, iPhone 6s Plus
iPhone 7, iPhone 7 Plus
iPhone 8, iPhone 8 Plus
iPhone X
iPhone XR
iPhone XS, iPhone XS Max
iPhone 11, iPhone 11 Pro, iPhone 11 Pro Max
iPhone 12, iPhone 12 mini, iPhone 12 Pro, iPhone 12 Pro Max
iPhone 13, iPhone 13 mini, iPhone 13 Pro, iPhone 13 Pro Max
all models of iPhone 14 bought outside the U.S., including iPhone 14, iPhone 14 Plus, iPhone 14 Pro, and iPhone 14 Pro Max.
The nano-SIM from one iPhone model can be transferred to another if the new phone supports nano-SIM.
Micro-SIM card
Introduced in 2003, the micro-SIM card is not as widely used as it used to be.
This SIM card and chip are bigger than the nano-SIM card and have a size of 12 x 15mm. It has a plastic border bigger than the nano-SIM but small when compared to the original standard-sized SIM card.
The micro-SIM card is used in older models.
The iPhone and iPad models that use micro-SIM cards include:
3rd generation and 4th generation iPad
iPad 2
iPad
iPhone 4, iPhone 4s
Standard SIM card
The largest SIM card size now in use is called a standard SIM. Despite being called "standard," it is very rarely used nowadays and is mostly found in very old phone models.
It was released in 1996 and has dimensions of 15 x 25mm. Even though the chip size of the Standard SIM is the same as that of newer SIM card types, it has a large plastic border surrounding it.
These SIM cards are also called mini SIMs or regular SIMs. They were called mini-SIMs during their release because there used to be an even larger SIM card, which is not used nowadays.
The iPhone models that use standard SIM cards include:
iPhone
iPhone 3G
iPhone 3GS
Setting up data plans is easier for removable SIMs. You need to insert the SIM card into the prescribed slot and turn ON the mobile data. Having an active data plan will allow you to access the internet even when you are away from your home or office WiFi.
eSIM
An eSIM, where "e" stands for embedded, is a SIM card that is embedded in your iPhone or iPad. The eSIM cannot be removed from your iPhone or iPad. The iPhone 14 series released by Apple support eSIMs. The eSIMs, which are smaller in size when compared to nano-SIMs, free up a lot of space in the phone.
This will help with improvements in cell phone models, like larger batteries. eSIMs can also be included in wearables like Apple Watches because of their compact size. The main benefit of e-SIM is the simplicity of switching plans and networks. Since you cannot replace the eSIM embedded in your phone, you need not buy a new SIM if you wish to change to a new cellular network. The eSIM has the capability to switch to the new network of your choice.
Furthermore, an eSIM has the capacity to store multiple numbers and networks. That is, you could theoretically have multiple cell phone numbers on a single SIM card. You also need not worry about the compatible SIM card sizes for your phone if you have an eSIM. Tracking your iPhone is also easier if it has an embedded eSIM. So, you need not worry about getting your phone back in case you lose or forget it somewhere. The use of an eSIM also increases security because network providers will be able to access and control it remotely.
Requirements for having an eSIM
The eSIM feature is available in some iPhone models in certain regions and countries. The basic requirements for having an iPhone with eSIM include:
an iPhone XR, iPhone XS, iPhone XS Max, or any later model
a wireless service provider or international mobile operator that supports eSIM
a stable WiFi connection on your iPhone
The eSIM-only iPhone 14 models can be activated without WiFi.
In mainland China, eSIM is not available for iPhones. Some iPhone models, like the iPhone XS, 2nd and 3rd generation iPhone SE, the iPhone 12 mini, and the iPhone 13 mini, use eSIM in Hong Kong and Macao. Many international service providers offer eSIMs for usage with prepaid data packages for tourists visiting the Chinese mainland.
Wireless carriers that support eSIM Carrier Activation
An e-SIM can be assigned to your iPhone by your service provider either at the time of purchase of the phone or later when you call them after setting up for an e-SIM.
All service providers do not offer eSIM activation. There are also limitations on the regional availability of eSIM presently.
In the U.S., the service providers that support eSIM Carrier Activation include AT&T, Boost Mobile, Cellcom, Credo Mobile, C Spire, FirstNet, H2O Wireless, Spectrum Mobile, Straight Talk, Strata, T-Mobile USA, Tracfone, US Cellular, Verizon Wireless, and Xfinity Mobile. T-Mobile supports eSIM in Poland along with the U.S. Vodafone supports eSIM Carrier Activation in a number of countries, including Australia, the Czech Republic, Germany, Romania, and Spain. Other wireless carriers supporting eSIM include Magenta (Austria), Telekom (Germany), Magyar Telekom (Hungary), Reliance Jio (India), au (Japan), Sunrise (Switzerland), Swisscom (Switzerland), and EE (United Kingdom).
Setting up data service using e-SIM for iPad
When using an eSIM, you can activate data on your iPad by:
using the carrier app to purchase a plan
setting up a new plan with a worldwide service provider that supports eSIM.
scanning the QR code provided by the carrier; in some cases, you may need to enter an activation code provided by the carrier.