What Are Apple's New Self-Repair Kits All About?
What's good, what's bad, and what's downright ugly about the Apple Self Service Repair Program.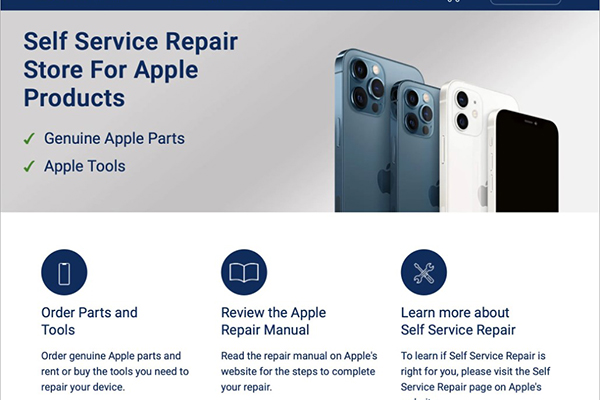 Introduction
Starting April 27th, 2022, US iPhone owners can also buy replacement parts and tools directly from Apple. Apple says the program is a way to "provide easy access to genuine Apple parts and supplies for local iPhone repair," but limits customers' repair and refurbishing options.
Apple has been notorious for keeping its repair process secret and even using components that only they have the tools for.
While many companies have figured out ways around Apple's antics, it hasn't always been easy. (Gophermods has been repairing iPhones for twelve years).
Now, Apple has made a 180-degree turn as the news recently broke that they would be renting out DIY repair kits for people to use at home.
While it sounds like a win for the consumer, it may not be as positive as it looks on the surface. We'll look at just what goes into these repair kits and the pros and cons of Apple's newest product.
What is the Self-Repair Program?
Apple announced today: seven years of parts availability, retail sales of tools that only official Apple techs could get before, repair kits and free step-by-step visual repair manuals available for everyone on Apple's sit. US fixers can buy iPhone 12, 13, and SE 3 parts and tools from Apple.
These kits will only work for iPhone 12, iPhone 13 and SE 3rd Gen (2022) models, and are not intended to be used for AppleCare repairs.
These kits cost $49, including shipping and all the tools needed to repair your phone yourself – parts are sold separately. Apple has also created a self-service repair page which they highly recommend users visit before ordering the parts and attempting the repair themselves.
Apple's iPhone 12 displays are $269.95, and you get $33.60 back when you return the screen. Renting the tools from Apple adds another $49, making the total repair $285.35 + sales tax for an iPhone 12 display repair.
This repair in an Apple store is $279 + sales tax (which means the DIY repair with tool rental is actually more expensive than an in-store repair!).
Gophermods does the iPhone 12 screen repair for $279 + sales tax. No appointment necessary, and most repairs are finished in an hour.
Who Is This For?
Anyone who owns an iPhone 12 or 13 series can order these kits, but Apple stresses that you should have some technical skills if you plan to repair your phone yourself.
At Gophermods, we train our technicians over six months before they're consistently unsupervised on iPhone repairs.
During that six months, our technicians start on the iPhone 4 (yes, that one from 2010) and work their way up to the newer iPhone 12 / 13 models.
Why? Because new techs make a lot mistakes in training, so we start them off with the basics.
At Gophermods, we would never let a new technician start on a $1,200 iPhone 13 Pro Max for their first repair.
These kits are pretty much for someone who has the technical skill to repair their phone but doesn't think they will do it enough to buy the tools outright or anyone brave enough to give it a go.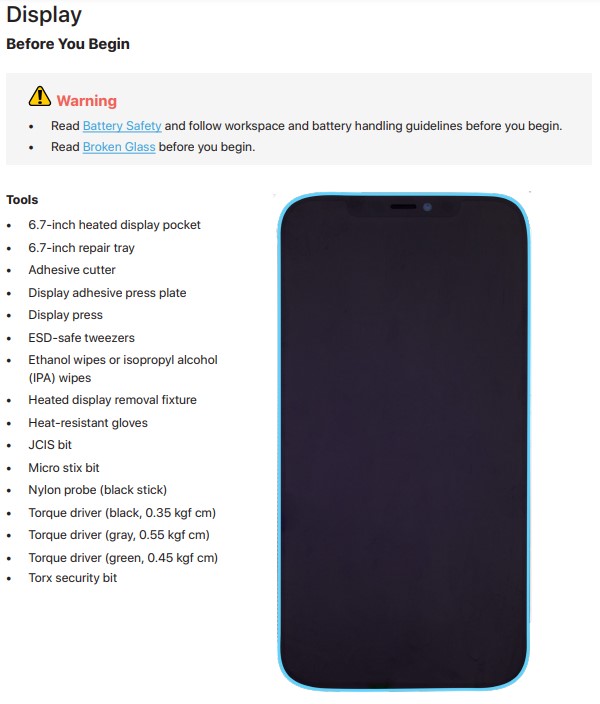 Slip, make a mistake?
Apple says too bad. In their Terms & Conditions:
All self service repair products are sold "as is" and "with all faults" and all sales are final.
So if you damage your iPhone, make a mistake, lose a screw, or otherwise have a palm to forehead moment. You're out the cost of the parts, and not eligible to return it:
Apple will not accept under this return policy any returned product that has been installed, used, tried, or is missing the factory/original packaging under any conditions.
Why Did Apple Do It?
Apple's official reasoning behind offering the repair kits after years of pressure from Right to Repair advocates is that they felt it was their responsibility to the customers and the environment to provide access to safe, reliable, and secure repairs.
While there may be an ounce of truth to that, it is more likely that they were feeling the pressure from groups who have been pressing for the right to repair their own devices.
As it turns out, it may be another winning revenue stream for Apple as well, since the cost of the rental kit is only one way they will make money from this endeavor.
The Pros and Cons
The new program certainly has many benefits compared to Apple's long-running stringent repair policy, but there are also many disadvantages that should be considered before renting your repair kits.
Self-Repair Pros
DIY
It is a plus that Apple is finally letting those who want to repair their phones do it without having to take it to the Apple Store, or third-party repair facility like Gophermods.
Apple Giving an Inch
It is nice that the little guy won one, and Apple finally gave people what they wanted. Part of that concession is the self-service repair page which gives away repair secrets that Apple has long held close to the vest.
No Need to Leave
If you don't want to leave the house, you don't have to since these reportedly heavy repair kits are delivered to your door. Likewise, your phone doesn't have to leave either, so you don't have to worry about a rogue Apple employee getting ahold of your sensitive data or going weeks without a phone while you wait for the repair.
Self-Repair Cons
It Will Cost You
Some DIYers like the challenge, but many choose to do it themselves to save some money. While there is no shame in the latter, this new DIY program could cost you way more. First of all, you can only rent the kit for seven days; after that, Apple will charge you late fees and taxes to a card you have on file. On top of that, if you damage the phone in any way, it will void the warranty, which may result in you having to buy a new phone. Cost of an iPhone 13 Pro 128GB? Just a cool $999.
Only the Newest Models
They do not offer repair kits for phones released before the 12 series, so it doesn't help those who love their earlier model phones and want to repair them instead of upgrade.
Limits Future Part Use
When you order parts through this new program, you must submit the serial number to your iPhone, matching that part to your iPhone forever. So, it effectively puts an expiration date on any iPhone repaired in this way. If the serial number for the part and any future phone it is used for don't match up, it won't be considered "fully refurbished."
Your Time
While people have been advocating for the right to repair their own iPhones for a long time, device repair is not as plug-and-play as some may think. There is a learning curve, and many people may spend hours learning how to do a repair that a professional can do in fifteen minutes.
Not Cost-Effective
Apple notes that they sell their parts to the consumer at the same price as they sell to approved third-party repair companies, so the only money you save is through their recycling program.
Trust the Pros
Apple's new repair kit is a win for tech-savvy users who enjoy the challenge of repairing their own devices, but for the average person, it won't change much. However, it will save you time and likely save you money, in the long run, to trust a professional to do your repairs. Even with the program, you also still can go to the Apple store for repairs, but the pricing again is a tough pill to swallow. Here is the most up to date Apple Store iPhone Repair Pricing.
Gophermods repairs iPhones, not just the newest versions, as well as Macs, PCs, game consoles, and much more. Trust us to get your repair done fast and get it done right the first time, without dealing with all the limitations of Apple's new program.