What you need to know about iPhone 13 repairs
If you break your phone, don't worry – it doesn't have to be the end of it! Here's everything you need to know about repairing an iPhone 13.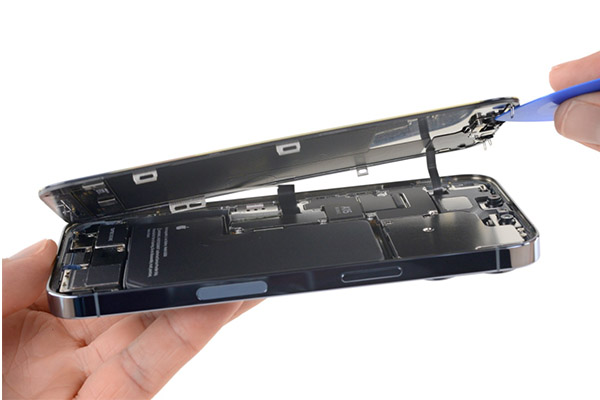 Introduction
Ever since the iPhone 13 was announced, I know many of you have wondered if you can repair it. It's been out now for a few months, and yes, folks have already broken them.
We will discuss which iPhones were introduced in September of 2021, including colors, price points, and availability. This article does not cover the 3rd Gen iPhone SE that was released in Mach of 2022.
We'll be focusing on the repairability of the iPhone 13 Mini, iPhone 13, iPhone 13 Pro, and iPhone 13 Pro Max rather than the percentage change in camera quality, thickness, or battery size.
We will focus on whether iPhone 13 repair is possible and, if so, when for how much and what can we repair on it.
On September 14th, 2021, Apple announced four new iPhones. The 13 was a minor refresh of the previous year's 12 series. The best part of this year's series, instead of starting storage size of 64GB, all models' base storage size is 128GB.
Going from 64GB to 128GB would have been a $100 upgrade in previous years. This year, it's the same price, but you're doubling up your storage. So that was nice of Apple to give everyone a $100 discount on the phone this year.
iPhone 13 Mini: Staring $699
iPhone 13: Stating $799
iPhone 13 Pro: Starting $999
iPhone 13 Pro Max: Starting $1,099
This article will discuss the iPhone 13 Pro Max (since we've already repaired a few), and we'll write a few more in the coming weeks discussing the iPhone 13 Pro / iPhone 13 Mini.
The iPhone 13 Pro Max is essentially the iPhone 12 Pro Max; it has nearly the same display, coming in at 6.68″. One of the first noticeable differences is the smaller notch on the front side, up to 20% smaller than previous generations.
Since we're discussing the repairability of the 13 Pro max versus the minute of differences in notch sizes, resolutions, etc., we'll leave that to the million other articles and talk about what we know best (repairs!).
There are a lot of repairs out there for iPhones, but we're only going to talk about the 95% that we see. We could spend hours and pages discussing the other 5%.
Our most popular iPhone 13 repairs
iPhone 13 Screen Repairs:
The good news is that the screen repairs shouldn't be more expensive because they're almost identical to the 12 Pro Max. No significant technology changes, like we saw from going LCD to OLED.
The 120Hz refresh rate is different from the 12 Series, and as we saw with the Galaxy Note 20 series, there wasn't a significant cost addition to increasing the refresh rate to 120Hz.
The bad news is it'll take a few months for the high-quality screens that we offer to become available for the iPhone 13 for the factories to retool to account for those cables' different cabling and positions.
As of March 2022, parts are available. However, with COVID lockdowns in Shenzhen (where all iPhones are manufactured), it may be until the Summer of 22′ for screen prices to be reasonable.
TLDR: Yes, we can replace screens.
iPhone 13 Battery Replacements:
All four models of the new iPhone 13 series feature a larger battery than previous generations of the iPhone 12 lineup. The iPhone 13 Pro Max is equipped with a 4352 mAH battery making it the largest battery amongst the iPhone 13 lineup.
TLDR: No major issues, will be replaceable.
iPhone 13 Rear Camera Replacement:
Unlike the iPhone 12 Pro series, both the iPhone 13 Pro and iPhone 13 Pro Max feature identical camera setups.
Similar to the iPhone 12 Pro Max, the iPhone 13 Pro Max features a triple back camera arrangement and a LiDAR sensor.
TLDR: Will be replaceable—no issue repairing.
iPhone 13 Charging / Docking Ports:
It will be replaceable—no issue repairing.
iPhone 13 Back Housing / Glass:
Since there is another new color this year that hasn't been manufactured previously, it'll cause back housing/glass repairs to be a little more expensive in the first 6 – 12 months. Still, once supply is available, there should be no reason why these cannot be replaced.
TLDR: Will be replaceable—no issue replacing.
The iPhone 13 Pro max comes in similar colorful options that its 12 predecessors did and is available in these colors:
Alpine Green (New!)
Silver
Gold
Graphite
Sierra Blue (Was called Pacific Blue last year on the 12)
If you're looking for a very in-depth article on all the differences between the iPhone 13 and iPhone 12, you can find a great article here.
Will you be able to repair the iPhone 13?
As of March 2022, the iPhone 11 is one of the most popular repairs at our facility and other third-party repair shops in the country. It takes about 18-24 months of a model release to be our "most popular" repair. We should be sending plenty of iPhone 13 in our stores next year in 2023.
It's still early, and we'll edit this article as time passes, but after the initial tear down videos of the iPhone 13 by our friends at iFixIt, it looks like we shouldn't see any significant repairability issues for a professional repair shop when it comes to the iPhone 13.
The iPhone 13, for better or worse, is just an upgraded iPhone 12. In 2020, according to our repair system, we had our first request for an iPhone 12 repair in November of 2020, and we had our first screen repair in December of 2020.
Apple usually releases new iPhone models in September. Because it takes factories a few months to begin making quality parts, screen repairs are expensive during the first 60 – 90 days after new models are released. However, since the iPhone 13 had significant shortages to the global chip shortage and otherwise supply-chain crunch, most iPhone 13's didn't land until December of 2021.
If you break your brand-new iPhone 13 within two to three months of launch and are not covered by an AppleCare+ or AppleCare Protection Plan, you can take your phone to the Apple Store to get it repaired. You can see the out-of-warranty repair prices below.
When will you be able to repair the iPhone 13?
Today, we are already capable of repairing the iPhone 13. We have done a few screen replacements already; customers didn't want to wait for the Apple Store, so they came to us.
Most repair shops now have access to iPhone 13 inventory and are capable of servicing any broken screens, cameras, docking ports, etc.
Unless you have any physical damage, any other issues with your device should still be covered under Apple's one-year warranty. We're always straight-forward and honest, and we'd rather you see something get replaced under warranty for free if you can.
So if you have a problem, and there are no significant scratches, damages, or gouges, have it replaced at Apple.
Estimated repair pricing for the iPhone 13 Pro Max (Update 3/23/2022):
iPhone 13 Pro Max Screen: $399 (Recommend Apple to save some money at this time, but we can do it)
iPhone 13 Pro Max Back Camera Glass: $99
iPhone 13 Pro Max Rear Camera: $149 (any issues should still be under warranty, unless physically damaged)
iPhone 13 Pro Max Rear Glass Housing: $399
iPhone 13 Pro Max Battery: $129 (You shouldn't need this for a few years)
iPhone 13 Pro Max Docking / Charging Port: $129 (any issues should still be under warranty, unless physically damaged)
Most up to date Apple Store Out-of-Warranty iPhone Repair Pricing.
For almost ten years, we've been providing iPhone repair services to the community. We have a good record of anticipating future costs of repairs and what we will be able to service.
What can you repair on the iPhone 13?
Since the iPhone 13 is just like the iPhone 12, we will be able to service all issues ranging from screens, bad batteries, damaged docking ports, broken cameras to cracked rear camera glass.
For an extensive list of all iPhone 13 repairs offered at Gophermods, you can visit the iPhone 13 repair page. We may not stock them at our Minneapolis stores yet because there isn't much demand, so if you need a repair, please call or email us.
How much will an iPhone 13 repair cost at Apple?
Apple's current repair pricing for the iPhone 13 Pro Max screen is $329.
Break something other than the screen, and then you're in big trouble. Apple's current repair pricing for the screen is $329, but if you break the camera, back glass, docking port, rear camera glass, or any peripheral that you can think of on your 13 Pro Max, you'll be shelling out at least $599.
If Apple doesn't cover it under warranty, which they won't, any physical damages are not covered.
iPhone 13 rear camera glass, batteries, docking ports, and cameras are available, and repair shops charge significantly less than Apple for when that break.
For example, an iPhone 13 Pro max rear camera glass is only $99 versus Apple's $599, so if you break something small, it's best to wait for your friendly third-party repair store to get the parts, and we'll repair that for you without breaking the bank.
iPhone 13 Repair Costs at Apple Store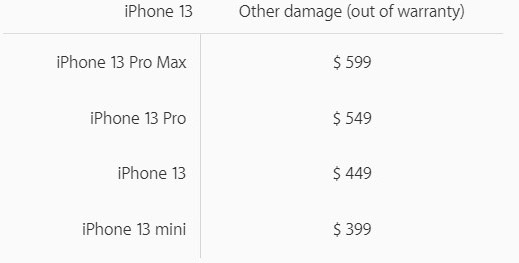 iPhone 13 Screen Repair Costs at Apple Store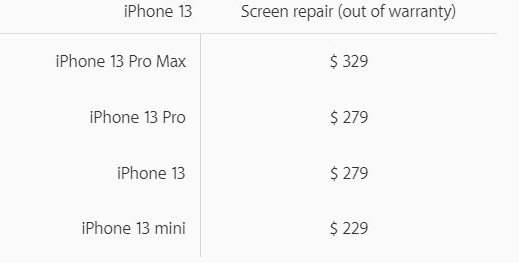 How much will it cost with the new Apple Self-Service Repair Program?
Starting in April 2022, US iPhone owners can also buy replacement parts and tools directly from Apple. Apple says the program is a way to "provide easy access to genuine Apple parts and supplies for local iPhone repair," but limits customers' repair and refurbishing options.
Additional Reading: What Are Apple's New Self-Repair Kits All About?
If you purchase the parts, and rent the tools, you can DIY for the following prices before recycling credits:
13 Pro Max: $358.96
13 / 13 Pro: $316.96
13 Mini: $274.96
iPhone Lock Screen Warning
Since the iPhone 11 series, any replacement screen will display to customers a warning on the device after any third-party repair facility installs a display after screen replacement.
This is simply a maneuver from Apple to force you to their Genius bar for repairs. There are zero issues with this; you would receive this message if you took two brand new iPhone 13 Pro Max's out of the box and swapped those screens.
This warning will disappear after five days of usage of your iPhone.
Apple would like you to believe that only their certified technicians are capable of removing the display and replacing it, which is simply not true. Gophermods has successfully repaired over 100,000 iPhone since the first very iPhone 1st gen that was launched in 2007. We have plenty of reviews to back that up, and you can learn more about our history on our about us page.
I broke my iPhone 13 already, can you help me!
If you're in urgent care of the repair, please visit any local Gophermods and we should be able to service your broken iPhone 13.
If you have damaged your Pro / Pro Max screen, please go to the Genius Bar at the Apple store, as of now that is the only place I can sensibly recommend if you have suffered an encounter with your iPhones nemesis, the ground.
Your cousin, the guy on Craigslist, and those eBay parts you find for $10, are all garbage.
I promise you. No, I don't promise it, I guarantee it.